How to collect an address from People on your list
Learn how to collect an address and other information from your list in Kajabi.
Quick Guide
Depending on what required fields you included on your Opt-in Forms, you may only have a limited amount of info from your contacts. In certain cases, you will want to collect more information from the contacts you already have on your List.
---
To do this, you will need to complete a simple two-step process:
Step 1: Build a Landing page with a new Form attached
From your Dashboard, select the Marketing tab then select Forms and create a new Form by choosing + New Form.
Add new Form Fields for Address, City, State, and Zip Code and click Save.
From there, Go to the Website tab, select the Page Builder, and create a new Landing Page.
On your new Landing page, click Add Section on the left Sidebar and choose Opt-in Form, then attatch the new Opt-in Form you have just created by finding it in the drop down under Forms.
Creating your Form:
Add your Form to a Landing Page: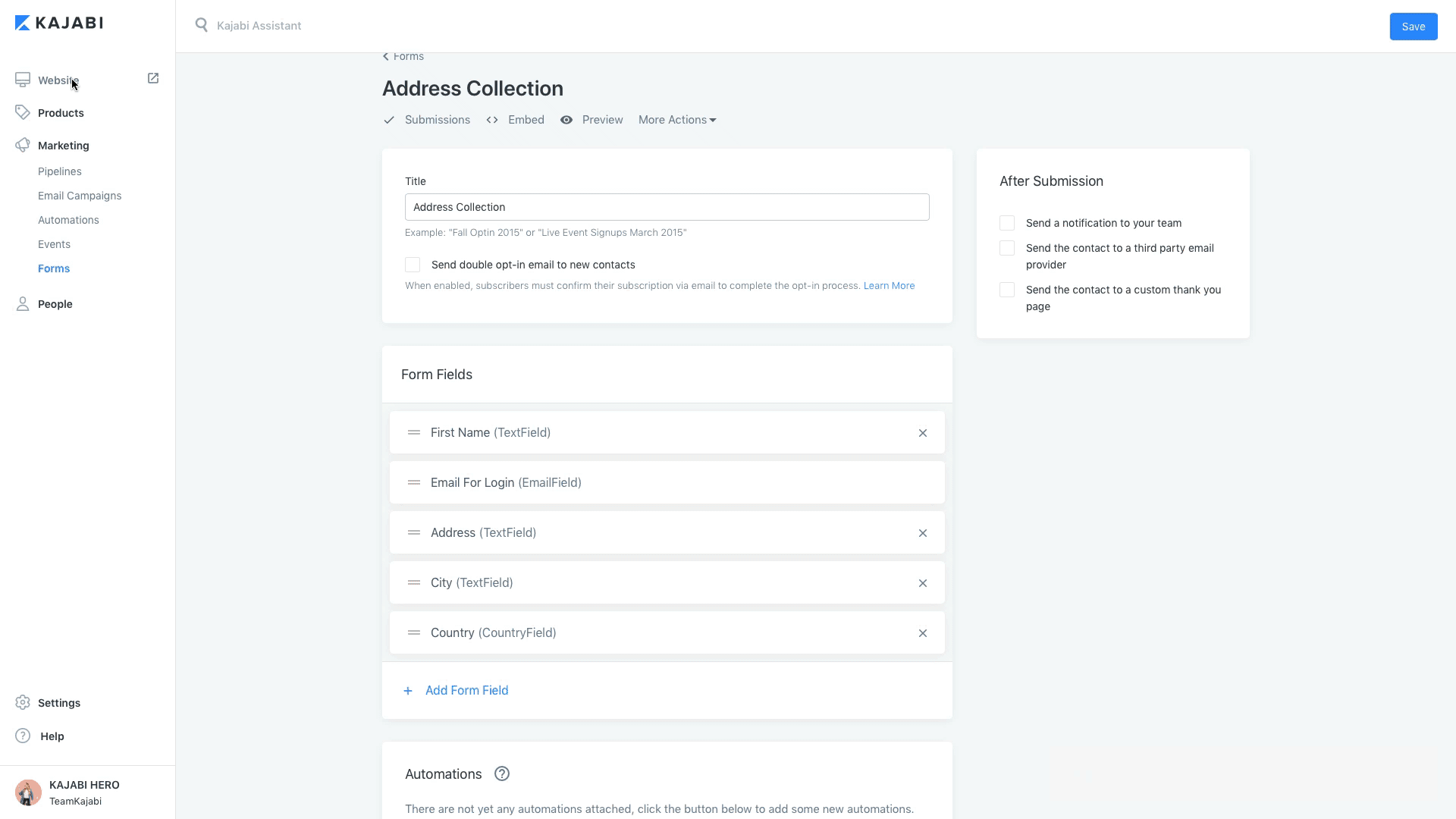 Step 2: Send the Landing Page to your List via Email so they can fill it out and submit it
From your Dashboard, select the Marketing tab, then choose Email Campaigns.
Select + New Campaign in the top right corner then choose Email Sequence in the section that appears.
On your new Email Sequence, set the day to 0 to make sure this email will be sent to your subscribers immediatley
In the body of the email, click the Add Button icon and paste the URL of the Opt-in Landing page just like you would do using a Call to Action Button.
Choose who you want to receive this email by editing who will be subscribed to the sequence and you are good to go!
You will now be able to collect addresses and other information from People on your list!
Note:
When your Contacts submit this Form, it will update their current contact information from your List. A duplicate Contact will not be created (so long as they use the same email address).
Was this article helpful?
Need Help? Chat With Us Now!